Sharky's Events & Inflatables Party Rental
There are many party rental companies out there, but there is something special about
Sharky's Events & Inflatables
that sets us apart. It's not just about the vast selection of inflatables we offer – from
bounce houses
and
water slides
to
interactive inflatable games
. It's about how we've carved a niche for ourselves in the party rental industry in Tampa, FL, and the surrounding areas. This blog post takes you through our journey to becoming the trusted partner for all types of events – birthday parties, church events, corporate parties, and more. We explore our growth, the secret behind our success, and how we've become the go-to destination for inflatable rentals in Tampa, FL.
Our Humble Beginnings
When we started, we were a small family-owned and operated company in Tampa Bay with a simple mission – to provide high-quality party equipment for all kinds of events. We wanted to ensure that every event was memorable, fun, and as stress-free as possible for the hosts. As we were building our inventory, we made sure to include a variety of inflatables to cater to kids and adults alike, with everything from bouncy houses to water slides and party equipment.
Our Growth
Our growth over the years has been organic and primarily fueled by positive reviews and word-of-mouth referrals from our satisfied customers. We've also expanded our rental services to include concession rentals, generator rentals, and a wide range of other event essentials. Our commitment to excellent customer service and providing the best inflatable rentals for every event has earned us the reputation of being the best event rental company in Tampa and the surrounding areas.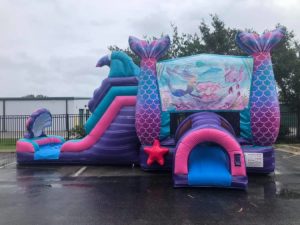 The Secret Behind Our Success
Quality
Quality is at the heart of everything we do. We offer the highest quality inflatables, including bounce houses, water slides, and inflatable games. Each piece is inspected, cleaned, and sanitized after every use, ensuring that our customers receive safe, top-quality equipment for their events.
Variety
We have inflatables in different shapes and sizes, catering to various themes and events. Our extensive collection includes everything from classic bounce houses to innovative obstacle courses and water slide rentals that are sure to entertain guests of all ages.
Reliability
We are a fully licensed and insured rental company. When you rent from us, you can have peace of mind knowing that your event is in the hands of professionals. We also offer easy online ordering and on-time delivery for all rentals.
Customer-Centric Approach
At Sharky's Events & Inflatables, the customer is king. Our team works tirelessly to ensure that every event we cater to is a success. From the initial inquiry to the set-up and pick-up, our team is there every step of the way to ensure your party goes off without a hitch.
Looking Ahead
As we look to the future, we plan on continuing our journey, providing outstanding party rental services to the Tampa Bay area. We strive to remain Tampa's first choice for bounce house rentals, water slides, and party equipment for every event. We will continue to invest in new and exciting inflatables and games to keep our inventory fresh and exciting. For those who are planning an event and in need of a reliable party rental service, we invite you to give us a call today. Our knowledgeable team is here to assist you in making your event one for the books. Experience the Sharky's Events & Inflatables difference. Let us bring the fun and excitement to your next party in Tampa, FL. After all, our mission has always been to make your events as memorable and hassle-free as possible. We look forward to serving you soon! To stay updated on our journey, follow us on social media, check out our website. You'll be the first to hear about new inventory additions, special discounts, and other updates. To learn more and booking
contact us
today!
Unforgettable Events, Thanks to Sharky's
Sharky's Events & Inflatables have been at the heart of many unforgettable events – birthday parties in backyards, corporate events at various venues, church events, and much more. We believe that no event is too big or too small for a bounce house or water slide, and we've seen firsthand the joy and excitement they can bring. Over the years, we've adapted our offerings to meet the needs of our diverse clientele. We've expanded our rental inventory beyond bounce houses and water slides to include concession equipment like cotton candy machines and generators. We also offer various inflatables perfect for all types of events, from obstacle courses to inflatable games. All these ensure that our rentals are perfect for any event you have in mind. We have consistently served Tampa, Riverview, Wesley Chapel, Land O' Lakes, and the surrounding areas, and we look forward to expanding our service areas further. Our goal remains the same: to be your one-stop-shop for all your event rental needs, making us the go-to party rental company for all of Tampa and the surrounding areas.
The Importance of Positive Reviews
Our customers' satisfaction is our success metric, and we are proud to have countless positive reviews. These reviews not only affirm our commitment to providing top-notch rental services but also inspire us to improve and innovate continually. We take each feedback to heart and use it as a stepping stone to elevate our services further.
The Role of Our Team
A significant part of our success comes from our dedicated team. Our staff is trained to provide excellent customer service from the moment you reach out to us for a quote to the post-event follow-up. They are ready to answer any of your questions, help you select the perfect inflatables for your event, and ensure everything is set up safely and on time. At Sharky's Events & Inflatables, we don't just rent out inflatables; we offer a comprehensive event rental service that guarantees an unforgettable experience for you and your guests. We ensure that you have everything you need for your event, so you can focus on enjoying the moment.
In conclusion
, our journey has been exciting and fulfilling, but we believe that we are just getting started. With plans to expand and improve, we promise to remain your best choice for bounce house rentals, water slide rentals, and party equipment rentals in Tampa, FL, and beyond. With Sharky's Events & Inflatables, every event is sure to be a hit, guaranteed to entertain, and leave lasting memories for your guests. After all, life is a party, and we're here to help you celebrate it!