A child's birthday is one of the most important and fun days of their life, and as a parent, you want to make it as memorable as possible. The magic and joy of a birthday party lie in its theme, activities, and the memories it creates. One way to ensure a birthday party that your kid will love and guests will talk about for years to come is by incorporating a themed bounce house from
Sharky's Events & Inflatables
into your party planning. A themed bounce house can take your child's party from fun to unforgettable. It is the ideal party idea for kids who are full of energy and love to jump, play, and laugh. With a variety of themes available, from castles and sports to popular characters and more, you're sure to find the perfect
bounce house
to match your party's theme.
Adding Bounce to Your Party Theme
Every child is unique, and their interests and tastes can significantly influence the theme of their birthday party. From princesses and superheroes to sports and animals, the options for party themes are endless. The magic of a Sharky's themed bounce house lies in its ability to match these themes and become the centerpiece of the event. A themed bounce house can instantly bring your child's chosen theme to life, providing not just an activity, but also a fantastic backdrop for photos and a memorable experience for every guest. Whether you're throwing a princess-themed party and need a castle or a sports-themed party with matching inflatables, Sharky's has got you covered. Our themed bounce houses can't be beaten for the joy they bring to kids and the impressive visual they provide at the party venue.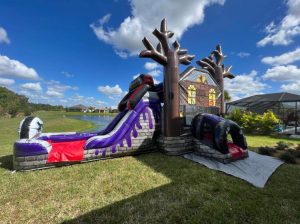 Fun and Games for Boys and Girls
In addition to being an eye-catching decoration, a bounce house from Sharky's provides a range of fun games and activities. Our bounce houses aren't just for jumping; many come with additional features, like slides and obstacle courses, that provide endless entertainment. No matter the size of your party, a bounce house can accommodate multiple children at once, meaning everyone gets to participate in the fun. For a bounce house birthday party, consider incorporating games such as bounce house races, bouncing relay games, or a 'bounce till you drop' competition. These games add an extra layer of fun and can be adjusted to fit any age group, making them suitable for both kids and adults. And of course, no game is complete without some party favors! Consider giving prizes like inflatable toys or mini bounce balls, which will remind your guests of the fun they had at your child's party.
Easy Party Planning with Sharky's
One of the biggest advantages of renting a bounce house for your kid's birthday party is the ease and convenience it brings to your party planning. When you rent a bounce house from Sharky's, you don't just get a bounce house. You get a team of professionals committed to making your child's birthday party as fun and stress-free as possible. We handle everything from delivery and setup to take-down after the party, leaving you free to enjoy the event with your child. All our bounce houses are thoroughly cleaned and sanitized before and after each rental, ensuring a safe and healthy environment for your guests. Our team can also recommend the best bounce house for your party size, theme, and age group.
Conclusion
When it comes to planning a memorable birthday party for your child, a themed bounce house from Sharky's Events & Inflatables can make all the difference. It brings the party theme to life, provides fun games and activities, and simplifies your party planning process. So, for your next birthday party, consider a bounce house rental from Sharky's. We are dedicated to providing fun, safe, and clean inflatables that will entertain your guests and make your child's birthday party one they'll never forget. The most important aspect of any birthday party is that the birthday child and their guests have fun. A bounce house guarantees fun, laughter, and plenty of bouncing. So why not give us a call or
contact us
today to discuss how we can make your next party a bouncing success?
FAQs:
What kind of themes can I choose for my kid's bounce house birthday party? At Sharky's Events, we offer a wide range of themes suitable for kids' birthday parties. From princesses to superheroes, sports, and more, you're sure to find the perfect match for your party's theme.
Are Sharky's bounce houses suitable for all ages? Yes, our bounce houses are designed to provide fun and entertainment for kids of all ages. Always ensure adult supervision for safety.
How does the rental process for a bounce house work? Renting a bounce house from Sharky's is easy. Simply select your preferred theme, date, and time, and we handle the delivery, setup, and takedown.
Can a bounce house fit in my backyard? Most bounce houses can fit in standard-sized backyards. We provide dimensions for each inflatable, so you can ensure there's enough space.
How can a bounce house enhance my child's birthday party? A bounce house provides a fun activity for guests, while also serving as an attractive centerpiece that brings your party theme to life.