Sharky's Events & Inflatables - Premier Destination for Bounce House Rentals In Tampa, FL
We Set-Up & Deliver Your Favorite Tampa Bounce House Rentals
If you're looking to add an extra splash of fun to your next party or event, look no further! Sharky's Events & Inflatables is your one-stop-shop for all bounce house rentals in Tampa, FL. We pride ourselves on providing top-quality, safe, and clean inflatables that will guarantee a bouncing good time for kids and adults alike. With a wide range of designs and themes to choose from, we have something to suit every event, be it a birthday bash, family reunion, or a community fair. Our dedicated team ensures timely set-up and delivery, letting you focus on the fun. So why wait? Choose Sharky's for your Bounce House Rentals in Tampa, FL and make your next event unforgettable!
EXPLORE SHARKY'S PREMIUM BOUNCE HOUSE RENTALS IN TAMPA
Unforgettable Fun With Our Bounce Houses in Tampa
Our Bounce House Rentals in Tampa offer more than just a jumping experience. As you leap and bound, you're also creating unforgettable memories that will last a lifetime. Each smile, giggle, and burst of laughter within our bounce houses encapsulates the pure joy that our inflatables bring. Providing a unique blend of physical activity and unrestrained fun, our bounce houses cater to all, from the young ones bubbling with energy to the young at heart. With safety as our top priority, our bounce houses are designed with high-quality materials, ensuring a secure environment for everyone to enjoy.
At Sharky's Events & Inflatables, we believe that customer satisfaction is the key to our success. We work closely with you to understand your needs and provide a tailored service that exceeds your expectations. From the initial consultation to delivery and set-up, our team is dedicated to making your experience hassle-free and enjoyable. With our Tampa Bounce House Rentals, you're not just renting an inflatable, you're investing in a high-quality service that prioritizes your satisfaction.
We invite you to browse through our extensive selection of Bounce Houses in Tampa. Whether you're after a classic bounce house, a combo unit with slides, or a themed inflatable to match your event, we've got you covered. Our team is always on hand to help you pick out the perfect inflatable for your specific needs and event. Make Sharky's Events & Inflatables your go-to destination for all your bounce house rental needs in Tampa, FL and let us bring the fun to you!
Choose Your Theme: Our Wide Range of Tampa Bounce House Rentals
We understand that every event is unique, and to cater to this, we offer an impressive array of themed Tampa Bounce House Rentals. Whether you're planning a princess party, a superhero-themed event, or a tropical luau, we have an inflatable that's perfect for your occasion. We're continually updating our inventory with the latest themes and designs, ensuring that we're always able to meet our customers' varying tastes and preferences.
Safety is paramount at Sharky's Events & Inflatables. Our Bounce Houses in Tampa are regularly inspected and thoroughly cleaned before each rental. Each of our inflatables meet all safety standards, and our team will guide you on how to use them properly. We're fully insured, giving you complete peace of mind when you choose our Bounce House Rentals in Tampa.
Remember, at Sharky's, we're not just about bounce house rentals. We also offer a variety of other party essentials such as tents, tables, chairs, and concession machines. When you choose Sharky's, you're choosing a full-service party rental company that can transform your event into an unforgettable experience. Let us take care of all your Tampa Bounce House Rentals and party needs, while you focus on making memories that will last a lifetime.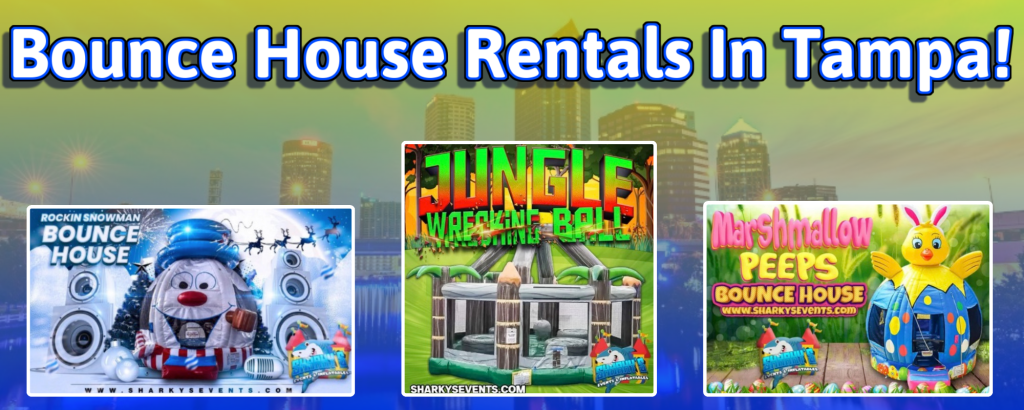 Safety and Cleanliness: Our Priority for Bounce House Rentals in Tampa
At Sharky's Events & Inflatables, we take the cleanliness and safety of our bounce houses seriously. All of our Bounce House Rentals in Tampa undergo rigorous cleaning and sanitation after every use. We strictly adhere to the highest sanitation standards, ensuring that every inflatable is spotless and safe for your loved ones. The health and wellbeing of our customers are paramount, and we are committed to providing only the cleanest and safest inflatables for your events.
Furthermore, safety does not end with cleanliness at Sharky's. We understand that an exciting day can quickly turn sour without proper safety measures in place. That's why all our Tampa Bounce House Rentals are designed with safety features such as reinforced stitching, heavy-duty safety netting, and non-slip surfaces. Our skilled team also takes the time to properly install and secure each inflatable, providing a safe and secure bouncing environment for all.
So, when you rent from Sharky's Events & Inflatables, you can rest assured that you are not only getting a top-quality, clean, and fun-filled inflatable, but also a dedicated team that places your safety above all else. Choose Sharky's for all your Bounce House Rentals in Tampa, and let us help make your event a safe, clean, and unforgettable experience!
Timely Set-Up and Delivery: Hassle-Free Tampa Bounce House Rentals with Sharky's
At Sharky's Events & Inflatables, we understand the value of your time, especially when it comes to planning and executing an event. This is why we ensure prompt and hassle-free delivery and set-up for all our Tampa Bounce House Rentals. Our dedicated team arrives well ahead of your event to install the inflatables, ensuring everything is ready for fun by the time your first guest arrives.
We pride ourselves on our professionalism and efficiency, striving to offer a seamless and stress-free experience from start to finish. We don't just drop off our bounce houses in Tampa, but we also take time to properly set up, anchor, and inspect each inflatable to ensure maximum safety. From the moment you make a booking with us, you can rest assured that every logistical detail will be handled with utmost care.
Sharky's Events Delivery Area
Is your event outside of our listed area? Contact Us below as we frequently deliver to events farther out and sometimes special accommodations can be made.
NOTE: Extra fees may vary depending on how far you are outside our service area.