It's an era of change and innovation, with industries all around us transforming in exciting and unexpected ways. One such industry is event entertainment, where traditional methods are being replaced with newer, more engaging, and fun-filled alternatives. Leading the charge in this revolution in the state of Florida is Sharky's Events & Inflatables. Offering an array of inflatable rentals, including bounce houses, water slides, and other fun and exciting inflatable activities,
Sharky's
is making waves in the party rental space. In this blog post, we'll take a closer look at how Sharky's is transforming the way Floridians celebrate, connect, and enjoy themselves.
The Magic of Inflatable Rentals: Bringing Fun to Every Event
There's something inherently delightful about bounce houses. Maybe it's the freedom of movement, the sheer joy of jumping and bouncing around, or perhaps the ability to channel our inner child, no matter what age we might be. But at Sharky's, we take that joy to the next level, offering a wide variety of inflatable rentals suitable for any event. Whether you're planning a small birthday party, a grand corporate event, or a social gathering, Sharky's provides an inflatable solution that can turn your gathering into a memorable experience. Our selection includes everything from the traditional bounce house, perfect for kids' parties, to water slide rentals, ensuring that hot Florida days are always met with a cool, exciting solution. Our inflatable rentals are meticulously maintained, safe, and sanitized to provide a fun and worry-free experience.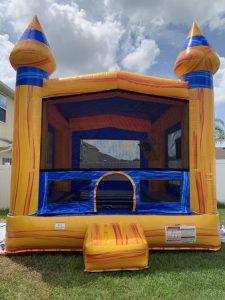 Adding a Twist to the Party: More than Just Inflatable Bounce Houses
The entertainment options available at Sharky's go beyond your standard
inflatable bounce house
. Our rental inventory includes a range of unique attractions that can add fun and excitement to any gathering. Consider, for example, our inflatable Twister game. It's a larger-than-life version of the classic game we all know and love, providing an enjoyable experience that encourages socialization, laughter, and a touch of competitiveness. It's perfect for team-building events, where the fun twist (literally!) can be a catalyst for camaraderie and team spirit. But the fun doesn't stop there. For those looking to add a splash of adrenaline to their event, our obstacle course rentals offer an exciting challenge that promotes teamwork and friendly competition. These inflatable obstacle courses come in different sizes and designs, catering to a wide age range and various event sizes. To be continued… The remaining part of the article will continue discussing the entertainment solutions Sharky's offers such as slide rentals, how Sharky's is revolutionizing event experiences in 2023 and beyond, its contribution to event planning, and so on. It will also highlight the importance of safety and maintenance in providing a memorable and enjoyable experience for everyone. At the end, a call-to-action will be included to encourage the reader to check out Sharky's offerings for their next event.
Slide into Fun: Embracing Water Slide Rentals
Florida's sunny climate is the perfect backdrop for our next innovative attraction – water slide rentals. There's nothing quite like the thrill of a water slide on a hot day, and at Sharky's, we're proud to offer a wide array of slide rentals, all designed to provide an excellent, safe, and memorable experience. Available in various shapes and sizes, our water slides are meticulously maintained and are the perfect focal point for any outdoor event. Whether it's a neighborhood block party or a large corporate picnic, our water slides are sure to make a big splash.
Revolutionizing Event Experiences: The Sharky's Approach
At Sharky's Events & Inflatables, we're not just a rental company – we're trendsetters, leading the way in revolutionizing event experiences. Our innovative approach to party rentals and our dedication to providing an enjoyable experience for everyone has set us apart in the industry. As we move into 2023 and beyond, we continue to add new, exciting offerings to our portfolio, constantly looking for ways to bring joy, laughter, and fun to the events of our clients. Our commitment to event planning extends beyond just providing the rentals. We work closely with event planners, party hosts, and our clients to ensure that our inflatables fit perfectly into the event's theme, decor, and flow. Our extensive range of inflatable rentals gives us the flexibility to cater to various themes and preferences, making us a popular choice for event professionals and party hosts alike.
Safety and Maintenance: A Top Priority
Providing high-quality, enjoyable entertainment options doesn't come without its responsibilities. At Sharky's, we prioritize safety above everything else. We understand that our products are often the centerpiece of your special event, and we take every precaution to ensure that they are safe, well-maintained, and meet all required safety standards. In addition to regular checks and maintenance, we also ensure that our inflatables are cleaned and sanitized before every use, providing peace of mind to all our clients. With Sharky's, you're not just getting an inflatable rental, you're getting the assurance of a well-maintained, safe, and thoroughly enjoyable experience.
Elevate Your Next Event with Sharky's
There's never been a better time to consider incorporating an inflatable rental into your next event. With Sharky's Events & Inflatables, you're getting more than just a rental service – you're gaining a partner dedicated to creating memorable and enjoyable experiences for you and your guests. So whether it's a bounce house for a birthday party, a water slide for a company picnic, or a Twister game for a team-building event, we've got you covered. Take your event to the next level and make lasting memories with Sharky's Events & Inflatables – revolutionizing party entertainment in Florida, one event at a time.
FAQs:
What type of inflatable rentals does Sharky's Events & Inflatables offer?
Sharky's Events & Inflatables offers a wide variety of inflatable rentals. This includes bounce houses, water slides, twister games, and many more. Our selection is perfect for corporate events, parties, and other gatherings.
2. Can I rent a water slide for my corporate event from Sharky's Events & Inflatables?
Absolutely! Sharky's Events & Inflatables offers exciting water slide rentals that are perfect for corporate events, particularly in the warmer months. It's a fun and unique way to add a splash of excitement to any event.
3. How do I book a bounce house rental for my party?
Booking a bounce house rental with Sharky's Events & Inflatables is easy. Simply visit our website, choose your preferred bounce house from our range of inflatable rentals, and follow the instructions to complete your booking.
4. Are Sharky's Events & Inflatables suitable for both kids and adults?
Yes! Our inflatables, including the fun twister games and bounce houses, are designed to be enjoyed by all age groups. From children's birthday parties to corporate team-building events, our rentals can add a fun and exciting element to any gathering.
5. Does Sharky's Events & Inflatables offer party rental packages?
Yes, at Sharky's Events & Inflatables, we offer party rental packages that include a variety of our inflatable rentals. These packages are designed to provide a comprehensive entertainment solution for your event, making planning and organizing much easier. For specific package details, kindly visit our website or contact us directly.